Meet the Team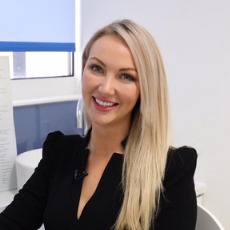 Dr Leah Totton
MBBS (DIST), DIP DERMATOLOGY
Medical Director
Dr Leah Totton is a medical doctor and an award-winning cosmetic doctor with 11 years experience and a post-graduate diploma in dermatology. Dr Leah Totton was the winner of The Apprentice 2013 and founded Dr Leah Clinics in 2014 with business partner Lord Alan Sugar. Dr Leah is an advocate for patient safety and improved regulation in the UK cosmetic sector, her mission when she founded Dr Leah Clinics was to establish a doctor-led, ethical cosmetic clinic that would set the gold standard of safety in the UK cosmetic industry. She has succeeded in doing so, with Dr Leah Clinics winning 'Best Cosmetic Clinic London' for two consecutive years and "Most Trusted Cosmetic Clinic UK' 2023.
Dr Leah specialises in treating face and neck sagging (jowls) non-surgically and is a thread lift expert. Dr Leah is the most experienced thread lift doctor in the UK, having performed more Thread lift treatments than any other individual UK doctor. Dr Leah is trained and experienced in all main types of Threads enabling her to select the type of thread which is most appropriate for each individual patient's needs. Dr Leah is the winner of the Silhouette Soft prize for 'Excellence in Thread Lift treatments', she is an international trainer for thread lifts and sits on the medical board managing thread lift complications in the UK. Dr Leah is known to combine collagen stimulating energy-based-device treatments (Morpheus8, laser treatments, Ultherapy) with Thread Lifts to achieve beautiful results for her patients. Dr Leah is also the leading UK doctor for Obagi Medical Skincare.
Dr Leah is passionate about the empowerment of women and believes in subtle cosmetic results which make you look like the best version of yourself - without looking like you have had "work done".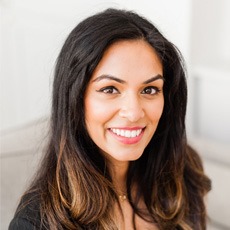 DR DEEPA PANCHALINGAM
MBBS, BSc (HONS) MSc (DIST) MBCAM
Associate Medical Director
Dr. Deepa completed her medical degree at Barts and The London, qualifying as a doctor in 2012. Dr Deepa went on to work at hospitals across Oxford and London in the field of General Surgery before begining her aesthetic career. Dr. Deepa is passionate about the Dr. Leah Clinincs' philosophy of providing safe, effective treatments which deliver natural-looking results. Using a combination of her surgical skills and an artistic eye, she delivers beautiful aesthetic outcomes, with the emphasis on keeping results as natural as possible.
Dr. Deepa upholds the Dr. Leah Clinics' standards for safety, delivering aesthetic procedures to the highest standard. All her patients can expect a thorough consultation with bespoke treatment plans tailored to individual needs. She is a member of the British College of Aesthetic Medicine and has completed a Masters in Aesthetic Medicine, achieving a Distinction, which enables her to provide a service encompassing the most cutting-edge techniques while upholding patient safety.
Dr Deepa is based at our Baker Street Clinic and offers anti-wrinkle injections, Dermal Filler, Profhilo, Plasma IQ, and specialises in the non-surgical lifting of the face using Silhouette Soft thread lifts.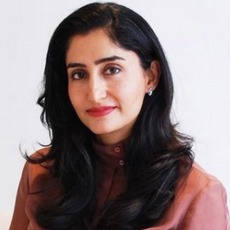 Dr Sidra has been a medical doctor for 10 years. She has always been passionate about making others feel more confident and satisfied with their appearance; she began her journey with NHS and went on to pursue her passion as her career.

Dr Sidra has achieved the highest qualification for injectables in aesthetic medicine and is level 7 trained. She has undertaken advanced training in various aesthetic procedures including anti-ageing Injections and dermal fillers. She believes in natural enhancement, safe medical practice, and the significance of having complete information before undertaking any treatment. She promises to provide her patients with open dialogue and detailed information about all the aesthetic procedures and excellent after-care service to ensure their safety.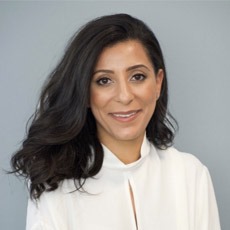 Dr Mariam Michail is an experienced cosmetic doctor and is based at the Moorgate and Baker Street branches. She graduated from Bart's & The London School of Medicine and Dentistry in 2014 and has been working as a dentist and cosmetic doctor in Central London since. She has completed extensive postgraduate training in all aspects of advanced facial aesthetics and skincare, including a Level 7 Diploma in Aesthetics. This has allowed her to treat a high volume of patients, providing a large range of predictable treatments, and develop extensive experience.

Dr Mariam prides herself on putting her patients at ease and providing bespoke treatments tailored to each individual, taking the time to understand their concerns. Her ethos is to provide balanced and natural results, with an emphasis on enhancing beauty while providing the highest standards of safety. Dr Mariam is also a clinical trainer in aesthetic medicine, training other doctors and enjoys keeping up to date with all new advances in the field.

Dr Mariam specialises in performing a wide range of injectable treatments including anti-wrinkle injections and dermal filler and especially enjoys performing cheek filler and lower face filler. She has always had a keen interest in combining injectable treatments with Obagi skincare and advanced skin treatments to give optimum results for full-face rejuvenation.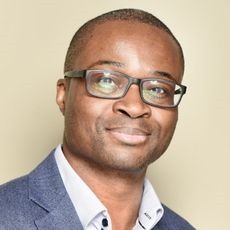 Dr Chike Emeagi
MSc MRCS MRCGP MBA
Senior Cosmetic Doctor
Dr Chike Emeagi is an experienced Medical & Cosmetic Doctor based at the Baker Street Branch. He obtained his Medical Degree from St Bartholomew's School of Medicine and Dentistry. He gained a Master's degree in Aesthetic Medicine from the Prestigious Queen Mary's University, and also holds an MBA from Imperial College Business School. He is a Member of The Royal College of Surgeons (MRCS).
Dr Chike started his clinical career in Surgery with his training covering General Surgery, Burn's Trauma Intensive Care, Plastics and Reconstructive Surgery, Trauma and Orthopaedics. He was an Anatomy Demonstrator to Medical Students at Cambridge University for 6 months.
He is a fully qualified and experienced Aesthetic Doctor with Advanced and Masterclass training in Aesthetic Facial Rejuvenation Techniques and Essential Skin Health Therapies. With his background as a Surgeon, and with his extensive training in Business Administration and Aesthetic Medicine, he spends his time when not attending to his patients, training Plastic Surgeons, Dermatologists, Doctors and Dentists on the latest evidence-based Aesthetic Techniques.
Dr Chike's extensive areas of interest includes natural facial contouring and volume replacement procedures especially Non-Surgical Face-Lifting Techniques. He specialises mainly in non-surgical lifting treatments for the face and neck with his most popular treatments being Non-surgical Mint PDO Thread Facelifts. He is an International Trainer and KOL for this procedure. He also performs Silhouette Soft Thread lifts, Dermal filler facelifts, and Advanced Nose and Neck lifting treatments
With a wealth of experience in Cosmetic Medicine, as well as a passion for his speciality, Dr Chike has a genuine interest for facial rejuvenation and beautification, the science of restoring natural youthful features and achieving facial harmony specific to gender and age. He likes to work intimately with injectables and PDO Thread lifts, while addressing skin health with clinically proven products and treatments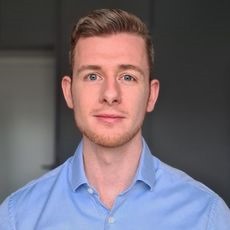 Dr Cian McLoughlin
MB BCh BAO
Senior Cosmetic Doctor
Dr Cian McLoughlin is an experienced aesthetic doctor based at our Baker Street and Moorgate branches. He completed his medical degree in Ireland, qualifying in 2019. From there he gained extensive medical experience working in both Ireland and the UK in areas such as Nephrology, Oncology and Acute Medicine. Dr Cian started his career in Aesthetic Medicine in 2020 when he began his Level 7 training with Harley Academy.
Dr Cian has a gentle and kind nature, taking time to understand each patient's individual needs and concerns. He uses his experience, skill and attention to detail to achieve beautiful, natural and individual tailored results. Through his experience and education Dr Cian has learnt the importance of treatment planning and safety when injecting, something he is passionate about.
Dr Cian specialises in a wide range of injectable treatments including anti-wrinkle injections for upper face, facial slimming, jawline, lower face and body slimming. He also has a wealth of experience in providing dermal fillers in areas such as temples, forehead, non-surgical rhinoplasty, cheeks, chin, jawline and tear trough. Skin treatments including micro needling, mesotherapy and Profhilo are also favourites of his. Dr Cian is also experienced in thread lifting and collagen stimulators such as Ellansé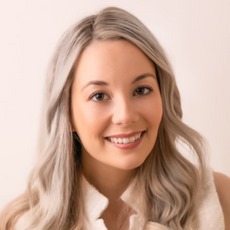 Dr Lucy Broxson
BSc BDS (Hons)
Senior Cosmetic Doctor
Dr Lucy offers a wide range of non-surgical cosmetic procedures including dermal fillers, anti-wrinkle injections, fat dissolving, medical-grade skincare and skin treatments.
Dr Lucy is a dentist by background, qualifying in 2017. Before this, she attained a first-class honours degree in Human Anatomy and is currently completing a Level 7 (Master's level) qualification in aesthetic medicine. Over the years, she has continually undergone further training and built up an extensive knowledge of the face and neck areas and is committed to providing only the safest and most effective aesthetic treatments.
Dr Lucy specialises in providing bespoke, natural cosmetic enhancements, always respecting natural proportions and avoiding the overdone look. She believes in taking a holistic approach with a focus on producing a beautifully rejuvenated result whilst also enhancing her patient's inner confidence and wellbeing.
Dr Lucy is passionate about empowering her patients and spends time at the consultation stage discussing their wishes and expectations before providing detailed explanations of all the treatment options available. She aims to make the experience relaxing and comfortable, and will listen carefully to any concerns or worries her patients may have.
Dr Andreas brings his artistry and expertise to the practice of facial, plastic, and reconstructive surgery.
Dr Andreas will take his time to carefully assess your specific needs and together plan a scientific, bespoke treatment to help you achieve your aesthetic goals.
After graduating with a tri-lingual international baccalaureate, Dr Andreas completed his world-class medical training at Imperial College, London, and Mount Sinai hospital, New York. His extensive plastic surgical residency was completed in Oxford and London enhanced by several years of fellowships at the world famous Toronto Sick Kids hospital, Great Ormond Street Hospital for Children, Chelsea and Westminster Hospital, and the Weymouth Clinic in London.
He has published and presented research internationally on the use of human stem cells and pioneered novel microsurgical and pharmacological techniques to protect face and limb transplants from reperfusion injury. He has received international innovation prizes for developing medical software.
He has been Anatomy Lead Demonstrator in Plastic Surgery for Oxford University medical school, educational fellow at Green Templeton and Merton Colleges, Oxford, and honorary lecturer at Imperial College, London.
Dr Andreas regularly works with international charities providing craniofacial and cleft lip and palate surgery for underprivileged children.
Dr Andreas is a double-board certified plastic surgeon with the Royal College of Surgeons in the United Kingdom, and the European Board of Plastic, Reconstructive and Aesthetic Surgery. He is on the UK General Medical Council's specialist register for plastic, reconstructive and aesthetic surgery.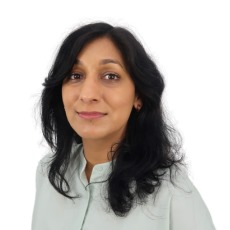 DR NAZISH MANSOOR
MD, SCE (DERM)
DERMATOLOGIST
Dr Nazish Mansoor is our dermatologist based at our Baker Street clinic. Dr Nazish graduated with honours over 10 years ago and has a special interest in dermatology, evident from her research in Androgentic Skin Doctors and has been working in dermatology since 2015. Starting in Ireland and subsequently moving to the UK in 2018 . Over the years ,she has gained a wealth of clinical and surgical experience , providing her patients with the best possible results tailored to their individual needs .She believes in excellence and prefection and you can be reassured with her clinical skills you will receive an accurate diagnosis regarding moles and skin in general . She takes pride in acheiving excellent cosmetic results while acheiving good clearance of moles .
Dr Nazish is a member of the Royal Society of Medicine (RSM),British Association of Dermatology (BAD) and the European Academy of dermatolgoy and Venerology (EADV), giving her access to the latest developments in Dermatology . She has also published in esteem journals inculding the International Journal of Dermatology and the Journal of Cosmetic Dermatology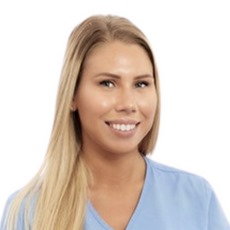 KATIE BARRETT
Head Aesthetic Therapist
Katie is an advanced level 4 aesthetic therapist with over 9 years of experience in the aesthetics industry. Katie is has been an ambassador for Obagi medical products since 2013. She has a great deal of experience in creating bespoke treatment plans for acne, acne scarring, and pigmentation concerns such as melasma. Katie is also our specialist for Ultherapy treatments in our Baker Street clinic. Katie is passionate about safety in the world of aesthetics and believes it is so important to choose the right clinic when having treatments on the face or body.
In recognition of her unwavering dedication to safety, customer satisfaction, and professional standards, Katie has been shortlisted for the prestigious 'Best Aesthetic Clinic Therapist Award 2023' by the Safety in Beauty Awards. This accolade further highlights her position as an outstanding aesthetic therapist, who continually strives to bring the best possible outcomes to her valued patients.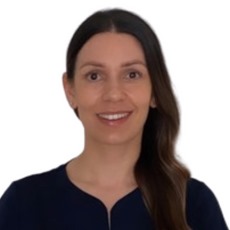 JENNA BUGEJA
Advanced Aesthetic Therapist
Jenna is our head aesthetic practitioner/trainer at the Loughton Clinic and an assistant manager within the company. Jenna has over 18 years of experience as a therapist and has been with Dr Leah Clinic for over 5 years. She has Level 3 NVQ, Core of Knowledge ln Laser and IPL treatments. Awarded Obagi Ambassador she has a special interest in pigmentation and acne. Jenna prides herself on her caring approach and loves to see her patients expectations become reality. Jenna has a natural aptitude for people and is warm and friendly, putting you at immediate ease and has remained one of our most requested practitioners for the past 5 years. Jenna believes a customised treatment plan based on her client's concerns and her invaluable knowledge helps deliver the best results.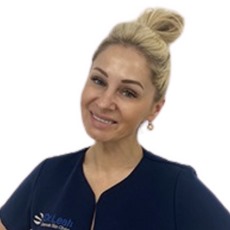 RASA CERNOVA
Advanced Aesthetic Therapist
Innovative and dedicated aesthetic practitioner / clinical trainer and Head Obagi specialist at Dr Leah Clinics, Rasa holds a degree in aesthetics and has outstanding knowledge and experience. She is qualified in NVQ level 4/5 in laser and ultrasound treatments. With over 10 years of experience in combining customised protocols in facial procedures, topical products and cutting-edge technologies within the field of aesthetics. Rasa joined Dr Leah Clinics in 2018 and has a huge clientele, she has an abundance of experience in laser treatments and is an expert in this area. Rasa is most passionate about performing anti-ageing treatments and working Obagi Medical skincare to treat challenging skin concerns such as pigmentation and acne. Rasa is the ultimate professional and takes great pride in performing the best treatments for her clients.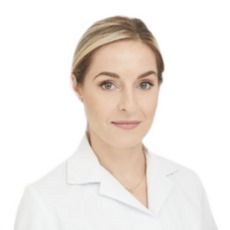 EWA SKOWRON
Advanced Aesthetic Therapist
Ewa is an aesthetics practitioner with over 10 years' experience in the beauty and aesthetics industry. Her passion and journey for beauty and aesthetics started whilst living in Spain, and continued by improving and building her knowledge and qualifications in London. Qualified VTCT level 4 laser therapist, Ewa joined the Team in 2021 as has most passion in performing advanced laser treatments. Ewa like to educate her clients about the holistic approach to skin and overall skin health and how to combine different treatments to help achieve the best natural results. Ewa brings a wealth of experience to our team and offers the best possible advice and treatments.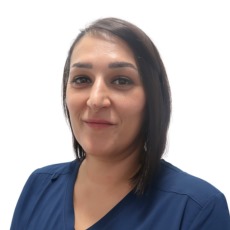 SEYHAN SEKLIZER
Advanced Aesthetic Therapist
Seyhan is a highly skilled and experienced Aesthetic Therapist at Dr leah Clinics with over 15 years of industry expertise. Holding a Level 4 certification and advanced experience with leading-edge technology, Seyhan is specialised in treating the effects of aging, preventative care, scarring and acne.
Seyhan's dedication extends to a personalised consulting approach, tailoring a bespoke plan to help her clients achieve their desired aesthetic goals in combination with modern technology and innovative treatments including lasers, micro-needling, and chemical peels.
Seyhan is committed to guide you through your skin journey, providing the highest standards of care and an unwavering dedication to helping you acheive your goals .Her approach is as unique as your skin.
We welcome you to the artistry of skincare, where Seyhan's passion meets your skin's potentail.