Meet the Team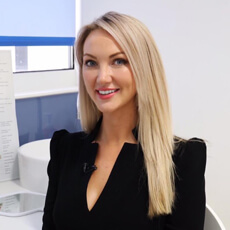 Dr Leah Totton
(MBBS (Distinction), Dip Dermatology)
Medical Director
Meet Dr Leah >
Dr Leah Totton is a medical doctor and an award-winning cosmetic doctor with over 8 years' experience and skincare specialist with a post graduate diploma in dermatology. Dr Leah Totton was the winner of The Apprentice 2013 and founded Dr Leah Clinics in 2014 with business partner Lord Alan Sugar.

Dr Leah is an esteemed thread lift doctor, winning the Silhouette Soft prize for 'Excellence in Thread Lift treatments', is an international trainer for Silhouette Soft thread lifts and sits on the medical board managing threadlift complications in the UK. Dr Leah is also the leading UK doctor for Obagi Medical Skincare.

Dr Leah specialises in non-surigcal lifting treatments for face and neck with her most popular treatments being Silhouette Soft threadlifts, dermal filler facelifts, and neck lifting treatments (Dr Leah Lift). Dr Leah also treats a lot of acne scarring / facial scarring clients and clients with melasma.

Dr Leah is an advocate for patient safety and improved regulation in the UK cosmetic sector. Her mission when she founded Dr Leah Clinics was to establish a doctor led clinics which would set the gold standard of safety in the UK cosmetic industry, she has succeeded in doing this, with Dr Leah clinics winning 'Best Cosmetic Clinic London' for two consecutive years.

Dr Leah is passionate about the empowerment of women and believes in subtle cosmetic results which make you look like the best version of yourself - without looking like you have had "work done".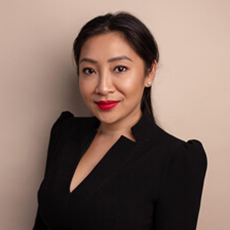 Associate Medical Director
Meet Dr Sheila >
Dr Sheila Li is an experienced cosmetic doctor and the associate medical director of Dr Leah Cosmetic skin clinics since joining in 2017. Dr Sheila is available in all three of our clinics- Moorgate, Baker Street and Loughton. She qualified as a dentist from King's College London and also holds a first-class honours degree in Biomedical Sciences. She trained in Aesthetic Medicine 6 years ago and is an award-winning cosmetic doctor who has worked alongside Dr Leah, within Dr Leah clinics since 2017, performing thousands of injectables treatments.

Sheila shares Dr Leah's passion for raising the standards in the practice of safe and ethical facial aesthetics and she is currently completing her Masters in Aesthetic Medicine at Queen Mary University of London. She has a gentle, caring and kind nature, she has a desire to truly understand her patient's goals and believes in subtle, natural looking results.

Dr Sheila specialises in performing Botox upper face, Botox for jawline slimming /teeth grinding or gummy smile, nose reshaping, tear trough filler, cheek filler and chin and jaw reshaping. She also performs Profhilo skin booster treatments, plasma IQ treatments and is the leading doctor for Aqualyx (fat dissolving injections) within the Dr Leah brand.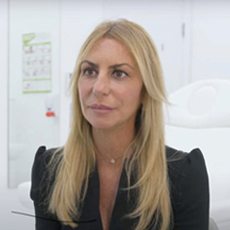 Dr Ana Barragan
(BDS, GDC)
Senior Cosmetic Doctor
Meet Dr Ana >
One of our senior cosmetic doctor at Dr Leah Cosmetic Skin Clinics who joined the company in 2017.

After graduating as a dentist in her native Madrid, Dr Ana moved to London and specialised in facial aesthetics, she has worked as a full time cosmetic doctor for 8 years, performing thousands of cosmetic treatments during that time. Dr Ana has been working alongside Dr Leah at Dr Leah clinics since 2017.

Dr Ana is based at the Moorgate and Baker Street branches of Dr Leah Clinics and has a special interest in performing Botox, lip filler, cheek filler and jawline dermal filler, plasma IQ treatment, lanluma bum enhancement and ellanse hand rejuvenation treatments. She has a naturally artistic eye and is a talented injector, and is passionate about making women look and feel beautiful.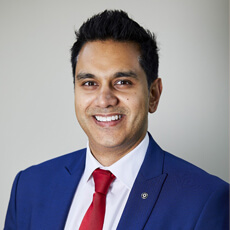 Dr Manav BAWA
(MD, PGDipESSQ, MRCSEng, M Ed SE & DIC, MRCGP)
Senior Cosmetic Doctor
Dr Manav Bawa is a cosmetic doctor and GP with a wealth of experience. Dr Manav is a member of the Royal College of Surgeons (MRCS) and the Royal College of General Practitioners (MRCGP), he has also gained a postgraduate diploma in Surgical Sciences and a Masters in Surgical Education at Imperial College, London. Dr Bawa is also currently completing a Diploma in Facial Aesthetics.

Having jonied the team in 2018, Dr. Manav Bawa has a kind nature and a truly holistic approach towards his patients and boasts a patient-centred outlook that provides bespoke results for each individual patient. He believes in achieving natural looking results.

Dr Manav specialises in performing Botox, lip filler, cheek filler, lower face filler, nose reshaping, tear trough filler and chin and jaw reshaping. He also performs Profhilo skin booster treatments and is our only doctor within the Dr Leah brand to offer leg vein removal and deep Obagi peel.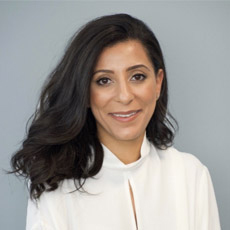 Dr Mariam Michail is an experienced cosmetic doctor and is based at the Moorgate and Baker Street branches. She graduated from Bart's & The London School of Medicine and Dentistry in 2014 and has been working as a dentist and cosmetic doctor in Central London since. She has completed extensive postgraduate training in all aspects of advanced facial aesthetics and skin care, including a Level 7 Diploma in Aesthetics. This has allowed her to treat a high volume of patients, providing a large range of predictable treatments, and develop extensive experience.

Dr Mariam prides herself on putting her patients at ease and providing bespoke treatments tailored to each individual, taking the time to understand their concerns. Her ethos is to provide balanced and natural results, with an emphasis on enhancing beauty while providing the highest standards of safety. Dr Mariam is also a clinical trainer in aesthetic medicine, training other doctors and enjoys keeping up to date with all new advances in the field.

Dr Mariam specialises in performing a wide range of injectable treatments including Botox and dermal filler and especially enjoys performing cheek filler and lower face filler. She has always had a keen interest in combining injectable treatments with Obagi skincare and advanced skin treatments to give optimum results for full-face rejuvenation.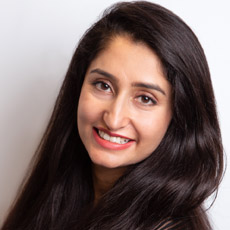 Dr Sidra Shakir
(MBBS, Level 7 in injectables)
Senior Cosmetic Doctor
Dr. Sidra has been a medical doctor for 10 years. She has always been passionate about making others feel more confident and satisfied with their appearance; she began her journey with NHS and went on to pursue her passion as her career.

Dr. Sidra has achieved the highest qualification for injectables in aesthetic medicine and is level 7 trained. She has undertaken advanced training in various aesthetic procedures including anti-aging Injections and dermal fillers. She believes in natural enhancement, safe medical practice, and the significance of having complete information before undertaking any treatment. She promises to provide her patients with open dialogue and detailed information about all the aesthetic procedures and excellent after-care service to ensure their safety.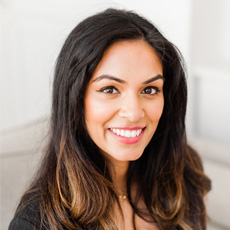 Dr Deepa Panchalingam
MBBS, BSc (Hons)
Senior Cosmetic Doctor
Dr. Deepa completed her medical degree at Barts and The London, qualifying as a doctor in 2012. Dr. Deepa went on to work at hospitals across Oxford and London in the field of General Surgery before commencing her aesthetic career. Dr. Deepa is passionate about the Dr. Leah philosophy of delivering safe, effective treatments which deliver natural-looking results. Using a combination of her surgical skills and an artistic eye, she delivers beautiful aesthetic outcomes, with the emphasis on keeping results as natural as possible. Dr. Deepa upholds the Dr. Leah standards for safety, delivering aesthetic procedures to the highest standard and all her patients can expect a thorough consultation with bespoke treatment plans tailored to individual needs. She is a member of the British College of Aesthetic Medicine and is completing a Masters in Aesthetic Medicine, which enables her to provide a service encompassing the most cutting-edge techniques whilst upholding patient safety. Dr. Deepa is based at our Baker Street Clinic and offers Obagi Skincare, Botox, Dermal Filler, Profhilo, Plasma IQ and specialises in non-surgical lifting of the face using Silhouette Soft thread lifts.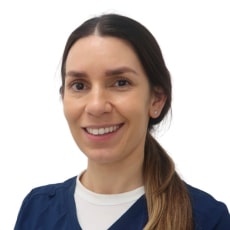 Jenna Bugeja
Head Aesthetic Therapist
Jenna is our head aesthetic practitioner / trainer at the Loughton Clinic and an assistant manager within the company. Jenna has over 18 years' experience as a therapist and has been with Dr Leah Clinic for over 5 years. She has Level 3 NVQ, Core of Knowledge ln Laser and IPL treatments. Awarded Obagi Ambassador she has a special interest in pigmentation and acne. Jenna prides herself on her caring approach and loves to see her patients expectations become reality. Jenna has a natural aptitude for people and is warm and friendly, putting you at immediate ease and has remained one of our most requested practitioners for the past 5 years. Jenna believes a customised treatment plan based on her clients concerns and her invaluable knowledge helps deliver the best results.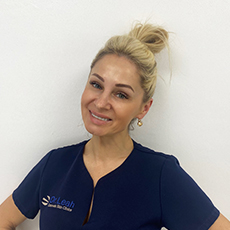 Rasa Cernova
Advanced Aesthetic Therapist
Innovative and dedicated aesthetic practitioner / clinical trainer and Head Obagi specialist at Dr Leah Clinics, Rasa holds a degree in aesthetics and has outstanding knowledge and experience. She is qualitied in NVQ level 4/5 in laser and ultrasound treatments. With over 10 years of experience of combining customised protocols in facial procedures, topical products and cutting-edge technologies within the field of aesthetics. Rasa joined Dr Leah Clinics in 2018 and has a huge clientele, she has an abundance of experience in laser treatments and is expert in this area. Rasa is most passionate in performing anti-aging treatments and working obagi medical skincare to treat challenging skin concerns such as pigmentation and acne. Rasa is the ultimate professional and takes great pride in performing the best treatments for her clients.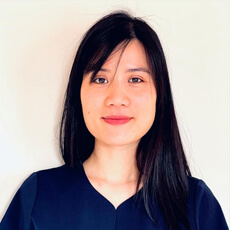 Kim Vu
Advanced Aesthetic Therapist
Kim is a qualified level 4 aesthetic practitioner with over 5 years experience. Kim is currently studying a PG Diploma in Adult Nursing at the University of New Buckingham and will graduate in 2022. Kim joined Dr Leah Clinics in 2019 and specialises in treating medical conditions such as vascular, pigmentation, weight loss, acne scars and overall skin rejuvenation. Kim's most popular treatments amongst her clients is facial laser to treat a variety of skin conditions, laser hair removal and body sculpting. Kim is warm and kind and always wants the best for her clients, she gets joy in restoring her cleints self confidence and wellbeing.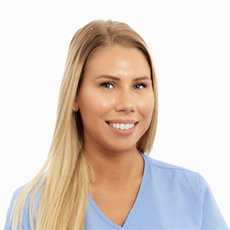 Katie Barrett
Advanced Aesthetic Therapist
Katie is an advanced level 4 therapist with over 8 years' experience in the aesthetics industry. Having recently joined the company in 2021, Katie has a special interest for Dermapen and skin rejuvenation laser. Katie has a great deal of experience in the use of the professional skin care ranges that we use at the clinic including Obagi medical. Katie is passionate about the safety of clients in the world of aesthetics and believes it is so important to choose the right clinic when having any treatment on the face or body.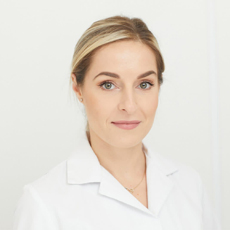 Ewa Skowron
Advanced Aesthetic Therapist
Ewa is an aesthetics practitioner with over 10 years' experience in the beauty and aesthetics industry. Her passion and journey for beauty and aesthetics started whilst living in Spain, and continued by improving and building her knowledge and qualifications in London. Qualified VTCT level 4 laser therapist, Ewa joined the Team in 2021 as has most passion in performing advanced laser treatments. Ewa like to educate her clients about the holistic approach to skin and overall skin health and how to combine different treatments to help achieve the best natural results. Ewa brings a wealth of experience to our team and offers the best possible advice and treatments.