Dr Leah Clinics specialise in acne scar removal, our team of doctors and advanced aesthetic therapists are highly experienced in treating the different types of acne scarring and have the best acne scar treatment options at their disposal.
What causes acne scarring?

Acne scars are a frequent outcome for people who suffer from acne and affect 30% of those with moderate or severe acne. Any type of acne spot can lead to scarring, although scarring is more common when acne is moderate or severe. It is caused due to the bodies response to the inflammation caused by acne - new collagen is laid down to heal the injury creating scar tissue and Postinflammatory colour changes occur due to the inflammation associated with acne.

Types of acne scars can be classified as atrophic or hypertrophic or as pigment changes. The most common type of acne scars are:
Icepick acne scarring - scars are the most frequent and represent 70% of atrophic types of acne scars.
Post inflammatory hyperpigmentation acne scarring - brown marks on the skin which occur after erythema, called post inflammatory hyperpigmentation.
Post inflammatory erythema acne scarring - pink or purple marks on the skin from previous breakouts
Results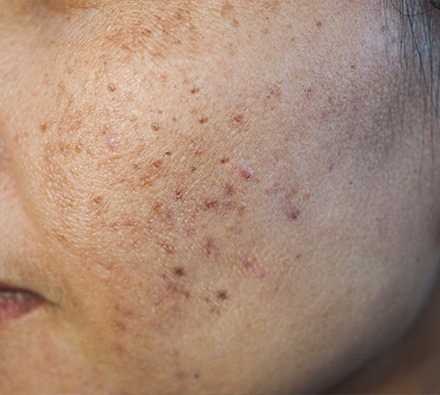 Before
Before and after Dr Leah Dermapen plus Uber peel treatment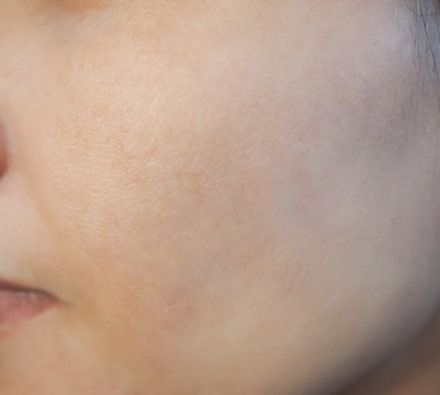 After
Before and after Dr Leah Dermapen plus Uber peel treatment
Acne Scar Treatment
Acne scar treatment focuses firstly on treating the acne to preventing scarring. The best acne skincare products available such the Obagi
Clenziderm
system is available at Dr Leah Clinics. This award winning Obagi acne products include compounds which reduce inflammation and subsequent scarring. Often these acne skincare products are on a subscription only basis – therefore it is important that a
skin consultation
is sought first with Dr Leah Clinic.
What Are My Treatment Options For The Best Acne Scar Treatment?
At Dr Leah Clinics we offer the best acne scar treatments and acne scar removal treatments in London and Essex.

Please note that acne scar treatments are not advised for clients within 6 months of being on a course of Roaccutane.
Why Choose Dr Leah Clinics To Treat This Concern?
Dr Leah Clinics is a doctor led clinic with the very latest medical grade treatments for acne scarring available.
We use a wind range of products and methods to offer the best acne scar treatment, such as the latest high-tech laser devices on the market.
Dr Leah Clinics are highly experienced in managing all types of acne scarring for all skin types. Unlike many clinics which do not differentiate between the various types of acne scarring, we understand that scarring can develop in many ways.
We treat each specific type of scarring individually and will devise a treatment plan for each one, rather than a one-size-fits-all approach.
We also offer a free in-clinic therapist consultation to ensure you get the best treatment for your concern.
To find out which of our acne scarring treatment is best for you please:
Complete skin analysis
Book FREE in-clinic skin analysis
Commonly Asked Questions
We offer acne scar treatment London sessions at both of our London clinics. We also offer acne scar treatment at our Essex clinic in Loughton. We are well known for our acne scar treatment London treatments and are highly experienced in giving the best results from acne scar treatments.
There are multiple skin products which can help with acne scarring and often scarring is best treated by a combination of in clinic treatments and skincare used at home, to find out which products for acne scarring are best for you please complete our online skin analysis.