What is pigmentation?
Hyperpigmentation is the darkening of the skin, most often caused by an abnormally high amount of skin pigment melanin. Melanin is the pigment that gives the body its natural skin colour. This can occur anywhere on the body but mainly occurs on the face. All skin types can suffer from this harmless condition. Individuals who have greater exposure to the sun are more likely to get pigment spots. There are many different types of pigment spots that can arise due to abnormal activity of melanin-producing cells. The most common varieties are:
Results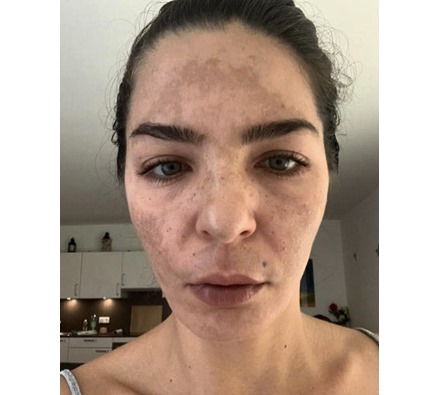 Before
Obagi Nu derm by Dr Leah Clinic (client's own photography)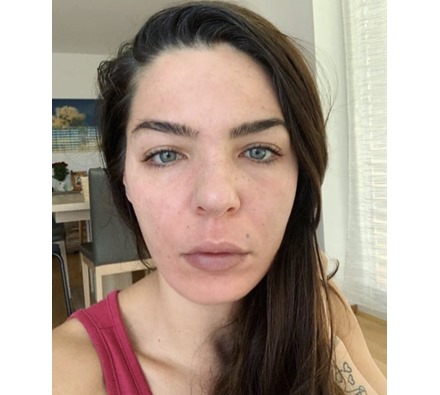 After
Obagi Nu derm by Dr Leah Clinic (client's own photography)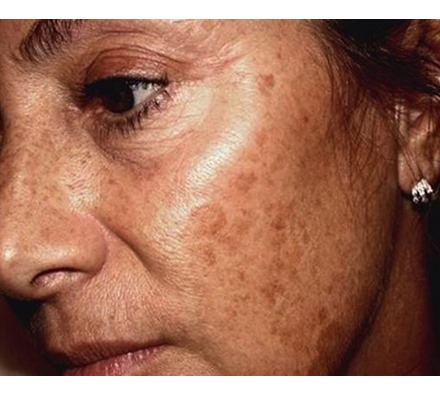 Before
Before after after pigmentation laser treatment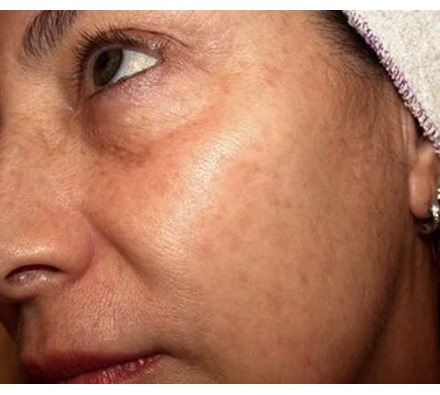 After
Before after after pigmentation laser treatment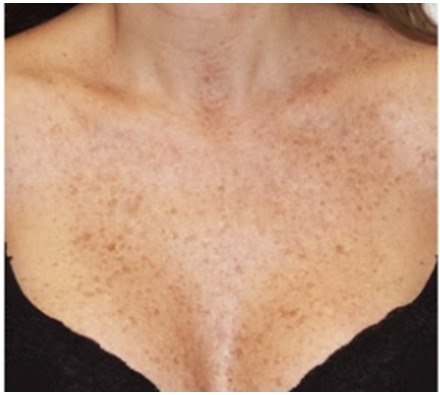 Before
Pigmentation laser décolletage
After
Pigmentation laser décolletage
1.Sun Spots: Sun spots are commonly known as age spots. They are triggered by overexposure to sunlight. For this reason, those areas of the body which are most affected come in contact with the sun on a daily basis i.e. face, neck, hands, and forearms. These spots appear as small flat patches that are light brown to black in appearance. Normally, these spots appear in people over 50 and younger people, who spend more time in the sun, can also get them.
2. Freckles: Freckles are clusters of concentrated melanocytes which are most apparent in people with a fair complexion. They are quite harmless and become more pronounced when they get exposed to UV rays. Usually, they occur in a younger age group as compared to people who develop age spots. There are two types of freckles which include ephelides and lentigines. Ephelides are slightly tan spots that occur more commonly in red-headed people. Lentigines, on the other hand, are isolated dark spots present at sites of sun damage.
3. Melasma: Melasma is hyperpigmentation where the pigmentation is in the deep dermis (deeper than normal pigmentation caused by sun damage), it mostly occurs in pregnant women or women who have had hormonal changes such as coming on or off the contraceptive pill or other hormonal treatment. Melasma is often called "mask of pregnancy". The hormonal changes typically produce pigmentation on the face area. Melasma treatment tends to be harder than other forms of pigmentation. Like all type of hyperpigmentation, exposure to sunlight will exacerbate the appearance.
4. Post-inflammatory Hyperpigmentation: This type of hyperpigmentation occurs following some form of injury to the skin. This condition is likely to develop in people after burns. This type of pigmentation is more common in individuals who hold pigment in the skin (type 3,4,5 and 6 Fitzpatrick skin types). It is common to have multiple types of pigmentation and Dr Leah Clinic have treatment solutions for each of the above types of pigmentation.
Best Hyperpigmentation Treatment
How to get rid of pigmentation?

The best hyperpigmentation treatment and melasma treatment is dependent on the type of pigmentation you have:
Sun Spots / Sun Damage / Freckles
- If your pigmentation is sun spots / sun damage pigmentation or freckles then the best hyperpigmentation treatment for you is
Pigmentation reduction laser
- Using the latest in innovative laser technologies these dark blemishes can be significantly reduced, leaving you with a brighter, clear and more even complexion. IPL laser treatment is not recommended if you have melasma as it can make the pigmentation worse. Dr Leah
Dermapen plus uber peel
can also be used to treat pigmentation if it is mild and also has the added benefit of producing collagen and elastin and reducing pore size.
Melasma Or Post Inflammatory Pigmentation
-
The best melasma treatment is
Obagi Nu derm
this is prescription strength skincare formulation. If you need
melasma treatment
or post inflammatory pigmentation treatment your Dr Leah Clinic practitioner is likely to recommend prescription-strength
Obagi Nu Derm UK
. The prescription Nu Derm system is only prescribed after an in-depth online consultation or in-clinic consultation with one our advanced therapists and one of our cosmetic doctors.
Obagi Nu-Derm UK
is a medical-grade skincare regime that is prescribed by your skin doctor and allows you to transform your skin at home over 16-20 weeks*.
Obagi Nu derm
is regarded as the best
melasma treatment
available in UK.
What are the best products for pigmentation?
Obagi Nu Derm with tretinoin is widely accepted to be the best treatment for hyperpigmentation and melasma – this is not available to purchase without medical consultation. Book skin consultation today!
For any type of pigmentation SPF is crucial to prevent it getting worse, OBAGI medical grade SPF can be obtained from our online shop
Why Choose Dr Leah Clinics To Treat This Concern?
Wide range of treatments available for hyperpigmentation including, pigmentation pigmentation laser, Obagi Nu Derm skincare and Obagi Blue peel.
Doctor led clinic with the strongest treatments available to treat pigmentation
Treatment solutions for ALL types of pigmentation - sun damage, melasma, post-inflammatory hyperpigmentation
Experienced in treating pigmentation in ALL skin types including type 5-6 skins (Asian and black skin).
Very experienced in Obagi skincare, winner of the Obagi 'Ambassador Clinic' award. Dr Leah Totton is the number one UK doctor for Obagi skincare and Dr Leah Clinic have won awards for the results they have achieved using obagi nu derm.
We offer
free
remote or in-clinic therapist consultation.
To find out which pigmentation treatment is best for you please complete our FREE online skin analysis or book an in-clinic FREE skin analysis
Complete skin analysis