What causes a saggy neck?
A double chin can occur as a result of accumulated fat in the neck or sagging of the skin under the chin. Both conditions can create the appearance of a saggy neck, sometimes called a turkey neck. A double chin is a common aesthetic problem of aging, although it can also appear in those who are overweight. In some instances it can be a case of genetics where a fuller neck is present from a young age often due to hereditary cause.
The first signs of under chin laxity tend to appear in your late twenties or early 30's and can be improved with simple in clinic treatments such as
Anti-ageing radio
frequency facial applied to neck area and
clearlift
laser.
The average age for a double chin to appear from ageing alone is 40 years old. The skin under the jaw is poor in collagen and elastin, and as we get older these elements decrease, resulting in a saggy neck and turkey neck appearance at this point we recommend
ultherapy
neck treatment or
profhilo
neck treatment.
From 45 onwards you are likely to require a combination of treatment to visibly reduce the signs of aging such as a saggy neck, turkey neck and double chin at this point we recommend the
Dr leah Lift
for Neck.
Results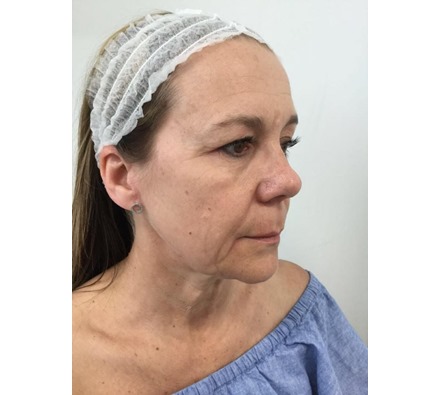 Before
Dr Leah Lift face and neck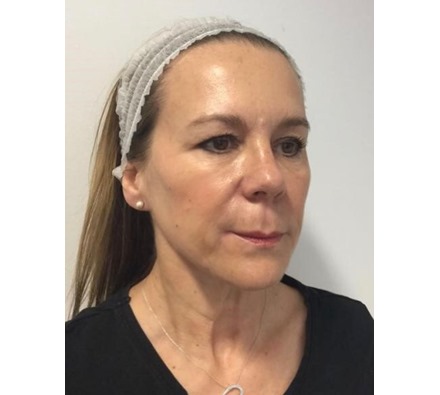 After
Dr Leah Lift face and neck
What Are My Treatment Options For Double Chin Removal, And How To Treat A Turkey Neck?
Double chin removal – Aqualyx - For double chin removal the Aqualyx fat dissolving injection is an excellent double chin treatment for those struggling to remove unwanted fat in this area. The double chin removal procedure is an injection of Aqualyx directly into the double chin to remove stubborn fat pockets. The result is a slimmer, more lifted under-chin area. You will need 3 Aqualyx sessions (3 weeks apart) for significant double chin treatment. Aqualyx Cost £450 1st treatment, £350 subsequent treatments
Sagging neck - Our radio frequency facial uses targeted radio frequencies to heat beneath the skin, breaking down depleted collagen and creating a firmer, more youthful look*. The heat from the radio frequencies helps to lift, firm and refresh the skin. The result is a noticeably tighter appearance. To achieve the best possible results, we recommend a course of 6 facials, one-per- week for 6 weeks. Although this is typically offered for the face area as this is where clients typically present with sagging, it can be instead be performed on the neck area to firm and tighten the neck in younger clients who have very mild sagging present. Radio frequency facial Cost £360 for 6.
Clearlift laser neck area - ClearLift is a collagen-producing laser treatment that can be used on the face or neck to improve skin quality and prevent ageing by producing collagen. This laser is perfect for those in their 20's, 30's or 40's who want to prevent the signs of early ageing and achieve a natural, rejuvenated result. The treatment is fast, pain free and with no redness or downtime, you can have it done in your lunchbreak and lay the foundations of collagen for the best possible age prevention. Clearllift laser Cost £1200 for 6.
Profhilo neck treatment - perfect treatment for Crepey skin on neck - Profhilo is a rejuvenating treatment that can smooth fine lines, wrinkles and is excellent for neck skin crepiness. Profhilo is a series of pure hyaluronic acid injections, which hydrate the skin and trigger collagen and elastin production. Through bio-remodelling the skin, Profhilo dramatically improves its quality and appearance reducing fine lines and hydrating the skin from the inside out. What makes Profhilo different from competing products is the high concentration of Hyaluronic acid, a key ingredient for producing healthier, radiant skin.The treatment process for Profhilo involves injecting the product in to points on the neck. The formula disperses across the whole front of the neck. Profhilo is a bio-rejuvenator, bio-revitaliser, and tissue stimulator. Profhilo Cost £750 for two treatments.
Ultherapy - Ultherapy is the gold standard for prevention and treatment of turkey neck. This FDA-approved treatment is described as a non surgical facelift for neck tightening and subtle face lifting. It offers natural-looking results which make it a favourite amongst Hollywood's elite. Ultherapy is a non-invasive (no injections) skin treatment that firms and lifts the neck to improve overall tone and laxity.This treatment creates collagen and elastin at a deep layer so that after just ONE treatment, you have a fresher, firmer, and more youthful neck appearance. There is no surgery, no injections, and no recovery time required. Neck Ultherapy cost £1800.
Dr Leah Lift - From the age of 45, and particularly over the age of 50 clients are likely to need a combination of non surgical treatments to treat neck laxity. Your doctor at consultation will be able to advise if you need to combine treatments, e.g. ultherapy followed by Profhilo or The Dr Leah Lift (which combines two different treatments - Ultherapy and Silhouette Soft threads. The Dr Leah lift is a non surgical lift which can be used for face, neck or both. Dr Leah Lift Neck only cost £2999.
Why Choose Dr Leah Clinics To Treat This Concern


Dr Leah Clinic specialise in non surgical solutions to face and neck sagging, this is our owner, Dr Leah Totton, specialist interest with aesthetic medicine.

Director Dr Leah's dedication to lower face and neck lifting means that she spends a large percentage of time researching and performing non-surgical treatments this concern (treating concern of a saggy face or saggy neck). Dr Leah has won the top prize in the UK for excellence in Silhouette Soft Thread Lifts – a prestigious accolade which was awarded for medical excellence and skill. Dr Leah has performed the more Silhouette Soft Thread Lifts than any other UK doctor.
To find out more about our treatment options for Double chin / Sagging Neck / Turkey Neck or to book a consultation with one of our doctors today:
call to book
request a callback