The Mummy Tummy Makeover at Dr Leah Cosmetic Skin Clinics may be the solution you need. As featured in Mail Online, our Mummy Tummy Makeover is a loose skin treatment without surgery, which successfully targets the appearance of loose skin and stretch marks left over from pregnancy or dramatic weight loss. This skin tightening and stretch marks treatment can help restore your skin to its pre pregnancy or pre weight gain/ loss appearance.
With this procedure, you can achieve body confidence with a smoother, more taught stomach without the risks and downtime associated with more invasive options such as a surgical tummy tuck.
This treatment, as featured in Mail Online, is exclusively available at Dr Leah Clinics and involves a combination of non-surgical treatments offered over 9 appointments (8 treatment sessions). Included in the treatment are microneedling or ipixel laser and radio frequency to help tighten and firm loose skin after weight loss and diminish the appearance of stretch marks.
What does a mummy tummy makeover treat?
Stretch marks on stomach
Skin tightening stomach skin
Many women are left with excess skin after weight loss or stretch marks after pregnancy, which diet and exercise alone are not effective in treating, there are however options available to tighten loose skin on stomach and treat stretchmarks without surgery. Our Mummy makeover is a package of treatments involving various non surgical treatments including dermapen microneedling or Ipixel (depending on skin type) plus a course of radiofrequency skin tightening treatments.
What is the process of the mummy tummy treatment?
The Process
The process of undergoing a Mummy Tummy Makeover involves 9 appointments;
Appointment 1 Initial Body Consultation – FREE
During your Initial Body Consultation, a patch test is completed to ensure suitability for the treatment course. At this point depending on your skin type and ethnicity (risk of pigmentation with ipixel laser) a decision will be made if you will have either dermapen or ipixel. If you are thought to be suitable for ipixel a test patch will be carried out on the day and 24 hours later, your treatment course will begin.
Appointment 2 - One iPixel or Dermapen treatment
Appointments 3-8 – Radio frequency skin tightening treatment, one per week for 6 weeks
Appointment 9 – Final ipixel or dermapen session
Best results are 2 weeks after your 9th Appointment.
Tell me more about each treatment
Dermapen - Microneedling stretch mark removal Dermapen is the industry leading microneeding device - a skin repair treatment - It uses tiny needles attached to a pen device to gently puncture the skin causing a series of traumatic punctures on the skin. The result of this is that the skin responds by naturally producing collagen and elastin to repair itself. The production of collagen and elastin work to create new smooth skin, improving the appearance of scars on face or body and also an effective stretch mark removal treatment, it can also help to tighten loose skin on stomach.
Microneedling stretch marks is a highly effective way of diminishing the look of stretch marks and a popular stretch mark removal treatment.
Stretch marks after weightloss and stretch marks after pregnancy can happen when the skin is pulled by rapid growth or stretching. While the skin is usually fairly elastic, when it's overstretched, the normal production of collagen is disrupted. As the collagen protein is a vital part of connective tissue in your skin, when this is unsettled a scar (stretch mark) can form.
Ipixel - laser stretch mark removal
iPixel is a laser stretch mark treatment which uses fractional laser to treat stretch marks. Ipixel fractional laser creates pixel-sized perforations in the skin, leaving the surrounding tissue intact. This allows the skin to heal faster as the epidermis is regenerated resulting in a new smooth skin surface. Ipixel fractional laser is an effective skin resurfacing treatment which gives skin an improved appearance and texture and reduces the appearance of scars and stretch marks, it can also help to tighten loose skin on stomach.
Radiofrequency – Skin tightening treatment
Tightening loose skin after weight loss with radiofrequency is a popular treatment.
Accompanying the Ipixel or dermapen treatment for stretchmarks, for best results we add a radiofrequency treatment to help tighten the loose skin after weight loss and pregnancy stretching. Our radiofrequency utilises electrodes to deliver the Radiofrequency energy under the skin (which is controlled and limited to the treatment area). Radio frequency helps to concentrate the body's collagen fibres and encourages the quick regeneration of the collagen and elastin that we lose with age. This results in a firmer, tighter skin and is an excellent way to treat loose skin on stomach.
Results
Before
Mummy Tummy Makeover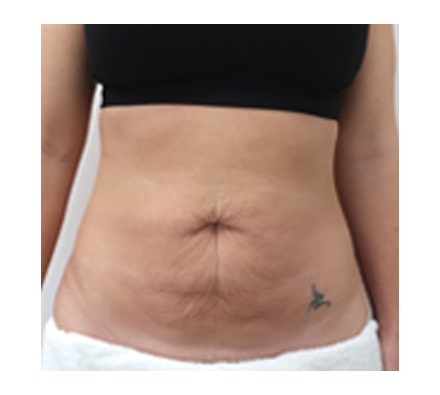 After
Mummy Tummy Makeover
Mummy tummy makeover video
Mummy Tummy Makeover Reviews
Here's what our clients have to say…
I had my little girl when I was 18 and after the birth my weight ballooned and I went up to a size 22 quickly which left a lot of stretch marks. I had my son five years later, and following this I worked really hard and got down to a size 8/10. Fast forward 10 years and while my stomach isn't bad enough that I wanted a tummy tuck, the weight loss means the skin is much worse. I wanted a treatment that would help but not be too invasive, so when I saw on her Instagram that they offer a mummy tummy treatment I knew this would be for me! I went to speak to Dr Leah about the treatment and trusted her straight away, because she is medically trained as well I feel it gives you more confidence. Because I had my daughter so young, I've never actually appreciated having a nice stomach with no stretch marks so it's nice to have it now. I can't recommend this treatment enough!
Clare, 33
Treatment Price
8 Sessions (individual treatment price if purchased seperately £990)
Mummy tummy makeover (2 i-pixel laser plus 6 skin tightening sessions)
£1,350.00
At Dr Leah Clinics, you're in safe hands
Meet the Dr Leah Clinics Team