Excess body fat / stubborn body fat

At Dr Leah Clinic we often see clients who maintain a healthy diet and exercise routine, yet still struggle to lose body fat and find that they are suffering with areas of stubborn fat on the body. Love handles, bingo wings and belly fat are the the most common areas that people commonly struggle to reduce body fat. This is why at Dr Leah Clinic we have invested in the most effective treatments for excess body fat to help clients reduce body fat in those areas and achieve their body goals.

At Dr Leah Clinic we offer several treatments to our treatment menu caters to reduce body fat and lose body fat easily with no need to go under the knife. Our non-surgical liposuction treatments are regarded as some of the best ways to lose body fat fast when accompanied by a healthy lifestyle.

Book a consultation to discuss treatment options to reduce body fat today!
Results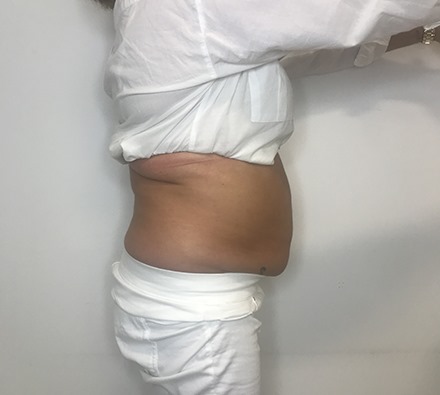 Before
Before and after fat freezing at Dr Leah Clinic (photos 12 weeks apart)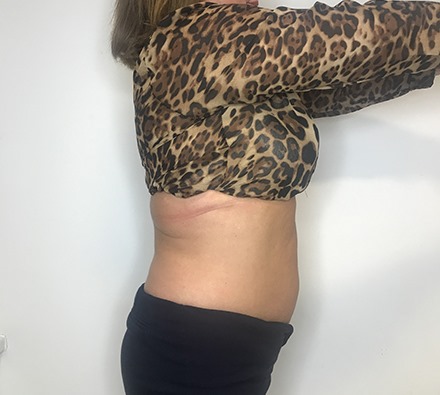 After
Before and after fat freezing at Dr Leah Clinic (photos 12 weeks apart)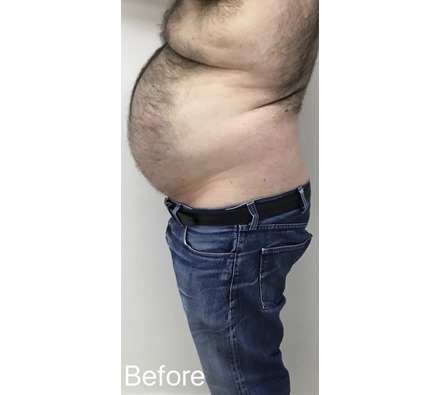 Before
Dr Leah fat freezing (photos taken 8 weeks apart)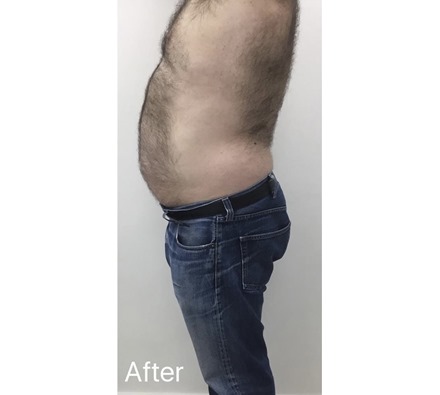 After
Dr Leah fat freezing (photos taken 8 weeks apart)
How to get rid of body fat?
Healthy diet and increased physical activity are the two fundmantal principles for getting rid of excess body fat. There are also cosmetic treatment options to reduce body fat which are classified as either surgical or non-surgical.
What is liposuction?
Liposuction refers to surgical body fat removal, this treatment involves the removal of the subcutaneous fat which is immediately below the skin. It can take various forms including conventional liposuction or less invasive surgical liposuction options including vaser liposuction or smartlipo. Surgical lipsuction is commonly referred to as 'lipo' or 'tummy tuck'.
What is non surgical liposuction?
Non surgical liposuction refers to non-surgical treatments to reduce body fat which can be categorised as fat freezing (cyrolipolysis), fat melting (e.g. inch loss / cavitation/ radio frequency) or fat dissolving (Aqualyx or Kybella). These methods are associated with less risk, less downtime and less cost versus surgical liposuction and as a result of this have risen dramatically in popularity in the last decade.
Dr Leah Clinic's best body fat treatment
At doctor Leah Clinic we are a non-surgical cosmetic clinic so our treatments to reduce body fat do NOT involve surgery. The best way to lose body fat will depend on the indivudal and for this reason we offer FREE in-clinic body consultations, where our expert level 4 trained body therapist will be able to advise what the best way to lose body fat is for you and create a bespoke treatment plan specifically designed to achieve your goals.


Why Choose Dr Leah Clinics For Body Fat Treatment?
Dr Leah Clinics specialise in non surgical liposuction and our team of doctors and aesthetic body therapists mean we can offer expert advice and treatments The wide range of treatments we have available for this concern mean you are not limited to one treatment option. We do not believe in a "one size fits all approach, we have multiple options for body fat reduction and are able to offer the most suitable one for you.
Dr Leah Clinics have the most up-to-date devices available for body fat reduction. In October 2020 we invested in a NEW body treatment device - the 3d Ultimate Pro Machine - at all three clinics, allowing us to offer the most up-to-date and advanced body fat reduction treatment on the global aesthetic market.
We offer FREE IN-CLINIC BODY CONSULTATION where our expert aesthetic therapist will assess your needs and advise the best treatment for you to successfully reduce body fat and restore your body confidence.
Dr Leah Clinic non-surgical liposuction treatments:
Fat freezing (cryolipolysis)
- Fat freezing remains one of our most popular treatments. If you need to remove belly fat, fat freezing is probably the best option, it is also very effective if you need to reduce love handles or inner thigh fat. We have recently invested in NEW state of the art fat freezing machine to ensure we offer the most effective method of cyrolipolysis. Fat freezing technology cools fat cells and causes fat cells to crystallize, thus permanently removing unwanted fat cells. Fat freezing takes 1 hour to perform with no downtime and results are permanent, it is easy to see why this is our most popular treatment to reduce body fat!
Inch loss (cavidation)
- Ultrasound cavitation is an 'inch loss' treatment that reduces body fat safely, efficiently and non-invasively. We use targeted ultrasonic waves to break down fat cells without harming any of the other cells in your body.A course of 6 treatments are required, one per week with results visible after each session and results are permanent It is highly effective in promoting lymph drainage and reducing bloatingIf you need to lose belly fat fast, inch loss is the answer
Aqualyx® body fat reduction injections
- Aqualyx® body fat dissolving injections is a treatment that is designed to reduce stubborn pockets of fat. It is performed by one of our doctors and is commonly used to treat pockets of fat under the chin (double chin), and reduce body fat in the arms (bingo wings), bra back fat, stomach fat and love handles. It is ideal for those who exercise regularly and maintain a healthy diet but have pockets of fat that remain present irrespective of weight. Aqualyx® fat dissolving injections treatment consists of a set of injections, administered 3-4 weeks apart, into the target area. You will need to attend a consultation with one of our Aqualyx doctors who will assess your suitability for this treatment.
To find out which of our treatments is best for you we offer FREE IN-CLINIC BODY CONSULTATION, where our advanced body therapist will be able to review and advise which treatments are best for you.
ONLINE BOOKING - FREE BODY CONSULTATION
Commonly Asked Questions
There are a number of surgical treatments to lose body fat and tighten skin as well as underlying muscles. These include but are not limited to a tummy tuck, arm lift, thigh lift and many more. While these surgical treatments can offer a good result, they also involve risk as with all major surgical procedures. Aside from each procedure causing scarring, there is the strong potential to achieve an uneven texture and silhouette. Aside from this, these surgical procedures can involve long recovery periods, with swelling and discomfort potentially lasting for several months. Surgical procedures can also be very expensive with full body lift surgery costing upwards of twenty thousand pounds on average. In contrast at Doctor Leah Clinic our non surgical liposuction procedures are completely non-invasive with limited risk, little or no downtime and are a fraction of the cost of surgical liposuction.